10 Things I've Learned From 10+ Years of Sitting in the Front Pew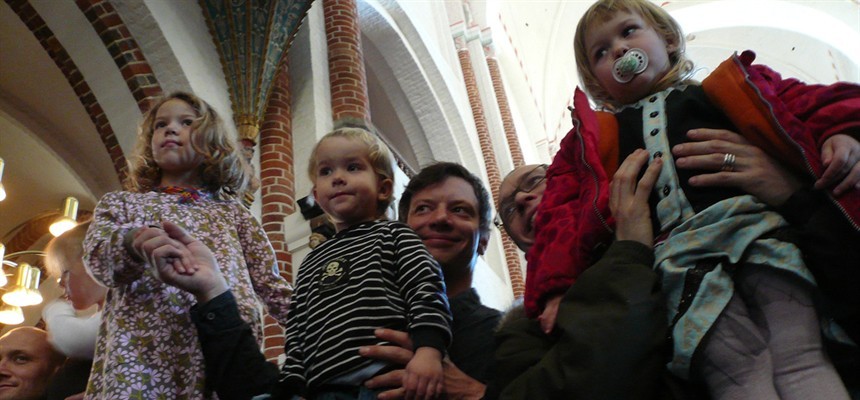 At that distance from the altar, a child is in throwing range when she discovers a giant bouncy ball under the pew on Easter Sunday.
Almost every woman between the ages of eight and 80 paints her toenails.
Fewer complaints of "I can't see Jesus" are heard than when seated in the middle or rear of the church.
Distractions from outside of the pew still abound, but tend to be more internal than external. In other words, I'm not distracted by your kid's electronic device and the flailing baby. Instead, I'm preoccupied with my grocery list, this week's sports calendar, and what's for dinner.
At 30-plus weeks pregnancy, the front pew may be the only one in which kneeling is possible since its rail sits perpendicular to the floor. In other words, it accommodates large bellies.
While everyone recognizes you because you sit up front, you have no clue who else attends the same Mass. None. So when smiling couples say hello and comment on how big the kids are getting, you nod and smile, all the while wondering who these people are.
The closer you are to the altar, the longer the walk to the narthex while wrangling a screaming child. Exponentially longer. An uphill walk of shame flanked by somber adults and Stations of the Cross.
Whether and why fellow parishioners are arriving late or leaving early is a mystery. Only the altar rests in your direct line of vision, and you can be happily oblivious to what goes on behind you and when.
Hymnals hit the floor with a deafening thud while children's bulletins sail quietly over the rail and into the aisle (where they can take down an unsteady elderly person returning from Communion). Rarely do either hymnals or bulletins remain in the pew.
Without the hair of fellow worshippers draping over the pew in front of you, the only hair babies and toddlers have to pull is your own. This may be an advantage or disadvantage depending on your perspective.